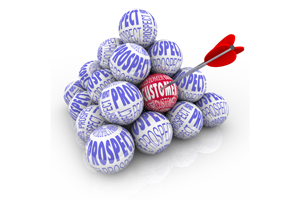 A type of advertising campaign that seeks to elicit an action (such as an order, a visit to a store or Web site, or a request for further information) from a selected group of consumers in response to a communication from the marketer. The communication itself may be in any of a variety of formats including postal mail, telemarketing, direct e-mail marketing, and point-of-sale (POS) interactions. Customer response should be measurable: for example, the marketer should be able to determine whether or not a customer offered a discount for online shopping takes advantage of the offer.

The single biggest determiner of marketing success is relevance.

Information characterized as having significant and demonstrable bearing on that which will satisfy the needs of the recipient.

We'd like to know more about your business and its competitive advantage. We'd like to know more about your customers and why they do business with you. We'd like to know how your customers wish to be communicated with. Loaded with this information, we can help you communicate with high levels of relevance.