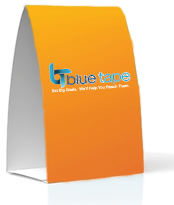 Custom Table Tents are ideal for advertising in places such as restaurants, coffee shops, hotels or anywhere that people congregate. Whether you are promoting new items, specials or upcoming events, custom table tents can be a perfect way to make your message stand out and get noticed!
Each of our customer's table tent projects is custom – not from a one-look-fits-all template.  Our services include:
Working from your files or providing graphic design and layout.
One color to full color, offset or digital printing.