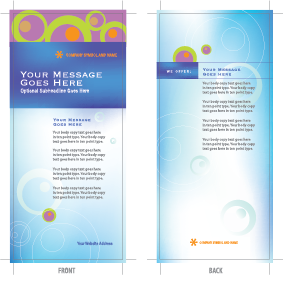 That's right. The typical 4" x 9" Rack Cards, printed on both sides and placed in a wall rack or a stand on a counter can be very effective. They can also be slipped into shopping bags at check-out, or used as envelope stuffers and mailed with invoices. Anyway they are used they can create awareness of a new product or service or a promotional offer.  You can also consider a few 'out of the rack' options, too:
How about a using a unique die-cut shape to make it stand out?
How about putting a coupon on it to stimulate return visits?
How about putting a QR code on it to drive traffic to a website, landing page or response URL?
Before you print your next batch of rack cards contact Blue Tape for some 'out of the rack' thinking!
Each of our customer's rack card projects is custom – not from a one-look-fits-all template.  Our services include:
Working from your files or providing graphic design and layout.
Versioning intended to increase relevance.
One color to full color, offset or digital printing.
Packaging and distribution to one or many locations.