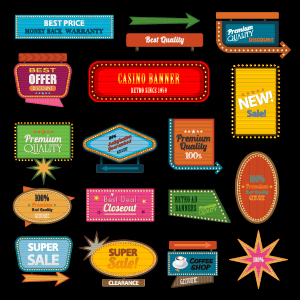 Nearly 75% of all final purchase decisions are made in-store, at the point of sale.  Banners and Signs are a crucial part of good marketing.  Ignoring this is a mistake for a number of reasons:
Point of sale marketing is a key element of the consumer's shopping experience. From location to direction to information and education, they can provide important messages, assistance and facilitation to the customer.
Banners, signs and other point-of-sale materials are among the final opportunities to influence purchasing decisions.
Banners and signs can be highly customized – with unique shapes,  images and content as well as new interactive technology like QR Codes, Augmented Reality and Near Field Communication.
Each of our customer's Banner & Sign projects are custom – not from a one-look-fits-all template. 
Our services include:
Working from your files or providing graphic design and layout
Providing an outstanding selection of media subtrates
Finishing services includes mounting on a variety of materials