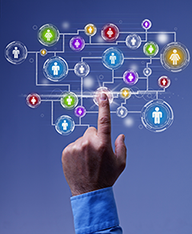 Why are industry leaders using Cross-Channel Marketing? The short answer is this: cross-channel, multiple-touch marketing is the way to maximize return on marketing investment. Simply put, the right combination of marketing tools, when working together, provide the power it takes to engage, nurture and convert responses right through to the sale.
Direct Mail connected to digital resources like personalized QR codes and landing pages.
Email that gets opened and provides additional links to those personalized resources.
Landing Pages and Microsites go beyond sending all prospects to the same webiste... allowing you to create an unlimited number of pages that are personalized to the individual people you are tryng to communicate with.
Social Media capabilities allow you to turn-on the power of Twitter with fully personalized messages directed to groups of followers.
No reason to stop now. Leverage the power of text messages, recorded voice mails and even more marketing assets to generate the results you need to make marketing pay off big!
Then, with your marketing program up and running, our marketing software allows us to set schedules - kind of like autopilot -  to keep the momentum going. Pretty exciting stuff, huh?